PROMISE Apollo Cloud

A Safer Way to Share and Save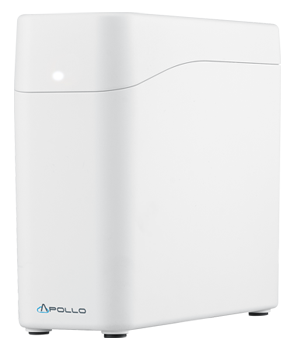 Sorry, this product is no longer available, Please contact us for a replacement.
Overview:
PROMISE's Apollo is a small, quiet appliance that works with the Apollo Cloud companion app to easily manage storing data from your Mac, iPhone, or iPad. Store, access, share and manage records, photos, and videos from anywhere, using any device with complete privacy and security—and no recurring fees. Excellent for your family, small business, home office, or small departmental group. Invite members into your trusted circle to use your Apollo. Each member gets his or her own private space and sharing control.
Easy set up and use from anywhere
You don't need to understand networking or how to hook up a computer to use Apollo. Just plug Apollo into your Internet-enabled router, start up the intuitive Apollo Cloud app downloaded from the App Store on your Mac, iPhone, or iPad, register your Apollo, and start storing and sharing from anywhere.
Access personal data from anywhere
You and members of your trusted circle can store content in and access each of your own private spaces on Apollo from anywhere over the web. Apollo supports up to 10 individual users total from a single device.
Auto upload Camera Rolls and stream videos
Each member can choose to automatically upload new content from their Camera Roll from all their iOS devices. They can also smoothly playback videos and other media content.
Private space and sharing control
You and each person in your trusted circle gets their own private storage space on Apollo and can independently control what they want to share and with whom. You can share select content with non-members as well, just as in your Cloud accounts.
Private and secure with easy backup and restore
Rest easy knowing that all your data is stored safely and securely on your Apollo. In addition, all your access transactions over the web are encrypted. You can even back up your Apollo to an external USB drive and restore to Apollo—all with a few taps on your Mac or iOS device.
Social elements
Friends and family can comment on and discuss shared files, photos, and videos within an entirely private environment.
Streamlined, quiet, and sturdy design
The attractive Apollo appliance fits neatly on a shelf, desktop, entertainment center, or tucked away in your closet. It's whisper-quiet and stays comfortably cool. A subtle LED indicator displays status.
Huge Storage Space
4TB of storage space with no recurring fees. With Apollo Cloud, save and share more than 440 hours of HD video, 220,000 photos and a half million songs!*
* Calculation averages: HD video = 9GB/hour. 5 minutes MP3 = 0.007GB/title. 12 MP photo = 0.018 GB/photo.
Features and Benefits:
System Highlights
4TB of storage for all types of files without any recurring fees
Easy to set up and use from Apollo Cloud app
View your private data, stream videos, or add content from anywhere on any device
Share Apollo among as many as 10 people—each gets private space and individual sharing control
Private and secure, with backup or restore options
Elegant, quiet yet sturdy design
Ethernet and USB 3.0 connectivity
Data encryption to secure your information
Specifications:
Apollo Cloud Specifications
HDD
4TB 3.5" SATA6G
Connectivity
USB 3.0 , Gigabit Ethernet
Dimensions
5.6 x 7.5 x 2.4 inches (143 x 190 x 61 mm)
Weight
1.2 kg / 2.64 lbs (including HDD)
Warranty
2 Year Limited Warranty (90 day web/phone support)
System Requirements
Requirements Operating System: Mac OS X v10.8 or later, iOS 8 or later, Windows 10/8/7/Vista, Android 4.4 or later
Included in the Box

Apollo Cloud Unit
16W AC Power adapter
Ethernet cable
Quick Start Guide
Serial Number Card
Videos:
FAQ:
The Apollo Cloud is a dynamic new product that will change the way you store and share your precious electronic memories and important files. If you aren't familiar with data storage or a private cloud, we've got the answers you're looking for right here!
What is Personal Cloud Storage?
Personal Cloud Storage devices typically allow you to store files on them and access through the internet. Some devices allow sharing with guests. What makes this product so unique, is unlike other cloud options, you physically possess the storage device.
What can I do with Apollo Cloud that I can't do with other Cloud accounts
Apollo Cloud is just as convenient, easy to store, access, and share as your Cloud accounts, but without the limitations and cost and with much more privacy.
Time Machine backup for Mac
You get huge capacity - 4TB - with no recurring fees.
There are no limits on size, resolution or length of files that you can store and share.
Each member can selectively share content privately with specific members of your circle, or the public.
You have much more privacy since your data is stored ONLY on your Apollo Cloud unit and not scattered across multiple locations on the web.
All data transfers over the internet are encrypted as well.
Why should I buy Apollo Cloud vs. other Personal Cloud Storage solutions?
Apollo Cloud is Personal Cloud Storage for you AND your private circle.
Unlike other solutions, Apollo Cloud is designed for easy storing and sharing within your family or group while offering full privacy for each member.
Each member can decide what to share, and with whom!
The Apollo Cloud App allows you and your circle to store and share from anywhere through a smartphone or tablet, without downloading separate software, the use of a computer or a complicated setup.
The Apollo Cloud App is easy and intuitive to use by a wide range of ages and technical abilities - you won't need an IT expert or a PhD to use it.
Can all members upload videos from their phones or tablets? Can everyone see what is uploaded?
Each member can enable auto-upload of their latest videos/photos from any and all of their phones and tablets to their own Apollo Cloud account - with complete privacy. They can then choose to share selected content to others.
How many people can share an Apollo Cloud?
Once you buy an Apollo Cloud device, you can invite up to 9 members, in total ten people to share within your circle. Members can share selected content to an unlimited number of public guests.
Is Apollo Cloud good for backup storage?
While Apollo Cloud can be used to conveniently backup and share content from your phones, tablets and computers, it is still a good idea to backup your Apollo Cloud to a separate USB hard drive.
Where can I buy Apollo Cloud?
Apollo Cloud is available now at Apple stores and Apple.com in the following countries: Australia, Austria, Canada, China, Czech Republic, Denmark, Finland, France, Germany, Hong Kong, Hungary, Ireland, Italy, Japan, Luxemburg, Netherlands, Norway, New Zealand, Poland, Portugal, Singapore, South Korea, Spain, Sweden, Switzerland, the UK, and the USA.
You can download Apollo Cloud App on Google Play and Apple Store, or Promise.
What type of support is included?
Apollo Cloud comes with a 2 year limited warranty on the hardware and 90 days of free Tech Support.
You can purchase optional extensions and additional services.
What does Apollo Cloud come with?
The standard package includes:
Apollo Cloud unit
DC power adapter with power cord
International plug kit
Ethernet cable
Quick Start Guide
What do I need to start using Apollo Cloud?
You need a router with internet access, a power outlet, and the Apollo Cloud App downloaded to your web-enabled mobile phone/tablet/laptop. Once you plug Apollo Cloud into the router and wall power, it should self-discover and be ready for your use within a couple of minutes. The QuickStartGuide will guide you through the process.
Am I restricted to only certain devices and operating systems?
Not really. Apollo Cloud can be used with OS X, and Windows on your computers and iOS or Android on your smartphones and tablets.
Pricing Notes:
Pricing and product availability subject to change without notice.