PROMISE VTrak D5800

Unified Storage System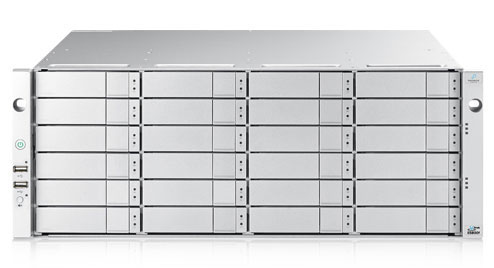 PROMISE Products
VTrak D5800 Series RAID Dual Controllers
Click here to jump to more pricing!
Overview:
VTrak D5000 series unified storage systems deliver uncompromising scalability, flexibility, and affordability for the mid-tier while providing simplicity and efficiency for minimizing total cost of ownership. Customers can respond more quickly to changing IT needs with VTrak D5000 series unified storage at an affordable price.
Accelerate Your Business
VTrak D5000 enables data driven business with an integrated combination of high-performance hardware, adaptive storage software, and flexible protocols at an affordable price. The platform is optimized for high bandwidth and low latency which makes it a perfect storage solution for mid-tier IT applications, surveillance, backup, and running multiple mixed workloads.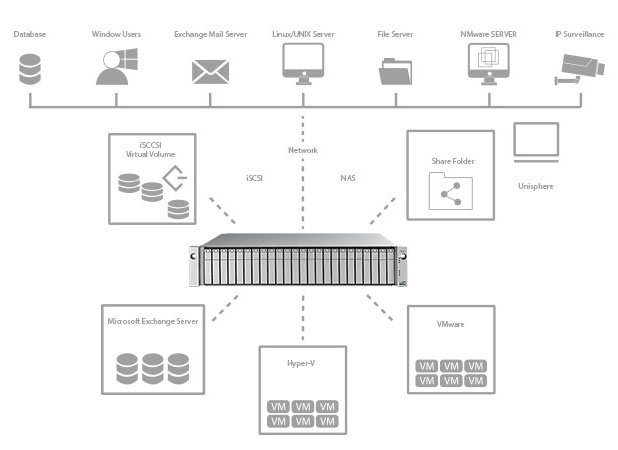 Unlock Power of Flash Cache
Flash Cache accelerated VTrak D5000 storage systems deliver impressive performance, boosting throughput and lowering latency. User has option to add Flash Cache for read and write acceleration. PROMISE intelligent data caching automatically promotes hot data to cache in real time, so you get the full benefit of flash performance.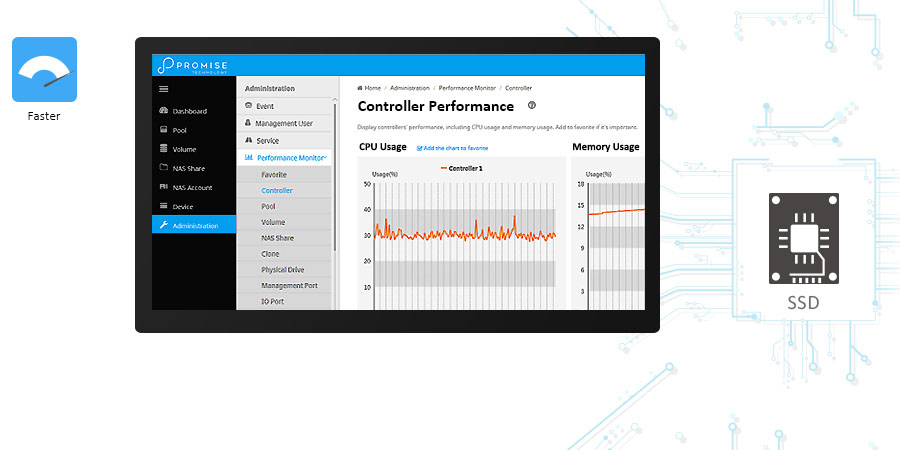 All Inclusive Pricing
VTrak D5000 all-inclusive pricing bundles hardware, software, and three years of Next Business Day service at an affordable cost.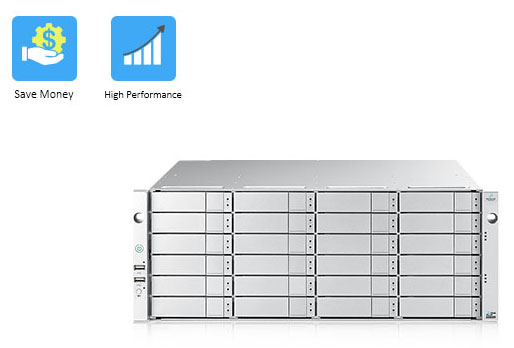 Configurations To Suit Any Need
VTrak D5000 series comes in four models D5300/20 (2RU), D5600 (3RU), and D5800 (4RU) giving users the flexibility on form factor.

Features:
Performance & Scalability
Scalable up to 15 JBODs or 512 drives
NAS

4K IOPs: 42,334
Sequential Performance: 3867MB/s reads 3525MB/s writes

iSCSI 

4K IOPs: 93,018
Sequential Performance: 4214MB/s reads 3376MB/s writes

Fibre Channel

4K IOPs: 141,285
Sequential Performance: 6,507MB/s reads 4360MB/s writes
High Availability & Resiliency
Everything redundant for no downtime
Active-Active Dual Controller with ALUA support for access flexibility
Background data Integrity scrub with parity rebuild
Predictive Data Migration (PDM) to minimizes maintenance 
Simplify Your Storage Environment
Consolidate SAN and/or NAS workload on the same storage solution
Concurrent FC & ISCSI connections for SAN as well as NAS protocols
Realize Superior Value
Accelerate enterprise applications
Reduce latency and speed operations with up to 50% higher performance
Consolidate Infrastructure
Massively scale up to 512 drives
Flexible 10GbE and optional 8/16G FC, with 6G SAS/SATA1 and 12G SAS interfaces.
Eliminate Downtime
Fully redundant design for enterprise
Active-Active Dual Controller with ALUA support for access flexibility
Upgrade & expand without downtime
Proactive & Predictive Analytics
Background data integrity scrub with parity rebuild
Predictive Data Migration (PDM) to minimize maintenance
Applications
General IT Infrastructure
Virtualized Applications
High Bandwidth Applications
Backup and DR target
Specifications:
VTrak D5800 Specifications
Form Factor
4RU
Drives Capacity
24 (LFF) + 4 (SFF)
Host Connect Interface

iSCSI and NAS Storage Sub-System
D5800xD: Dual HA Controller w/4-port 10GSFP+
D5800xS: Single Controller w/2-port 10GSFP+


FC, iSCSI and NAS Unified Storage Sub-System
D5800fxD: Dual HA Controller w/4-port 10GSFP+ and 8-port 16Gb FC
D5800fxS: Single Controller w/2-port 10GSFP+ and 4-port 16Gb FC

Storage Expansion Ports
2 x 12Gb SAS Mini-SAS (SFF-8644) per controller
Management Ports
2 x RJ-45 1Gb Ethernet and 1 x RJ-11 Port per controller
Expansion
48TB~240TB/enclosure3, Online Capacity/Volume Expansion up-to 15 JBOD's,
Max Pools/Volumes
256 volumes per pool, Max 32 pools per System; Max 512 Snapshots / 128 Clones per volume
Data Services

Snapshot 
Thin/Thick Clones 2
Thick/Thin Volumes 
Read/Write Cache 
Online Capacity Expansion

Advanced Storage Features

Asymmetric LUN Unit Access (ALUA)
LDAP for central user management
Linux Permission, POSIX ACL,NT ACL
Advanced Cache Mirroring over PCIe Gen3
Microsoft AD, LDAP and OD

NAS Protocol
SAN - FC Block with 16Gb FC or 10GbE iSCSI 
NAS - SMB/CIFS v2/v3, NFS v3/v4
RAID Levels
0, 1, 5, 6, 10, 50, 60 RAID Stripe Support 64K, 128K, 256K, 512K and 1MB
Hot spares
Global or Dedicated
Background Scrub

Media Patrol & Redundancy Check
Background Synchronization
Partial Rebuild
Task Scheduler for Background Activities

Proactive/Predictive Features

Predictive Data Migration (PDM)
Intelligent Bad Sector Remapping
NVRAM Error Logging
Drive Power Management (MAID)
SMART Error Handling and Write Hole Table

Supported OS
Windows Server 2008, 2012, 2016, macOS 10.x, RHEL 6.5 to 7.2, SLES 11, 11 SP4, and 12 SP1
Certifications
VMware ESXi 6.5 & Citrix Server 7.3
Management Interfaces
Web Based management using WEB, CLI, SSH, SNMP
Power Adapter
Voltage: 100--240Vac Auto--Ranging
Max Current: 12A @ 100Vac; 4.5A @ 240Vac
Power Efficiency
>80% @ 110V (>20% load), >80% @ 240V (>20% load) Temperature Range, 80Plus Certified PSU
Temperature
Operational: 5° to 35°C,
Non-Operational: -40° to 60°C
Humidity
Operational: 20% to 80%,
Non--Operational: ~ 95% (Non-Condensing)
Noise Levels & Shock
< 60dB, 25C, Operational: 5G, 11 ms Duration, Non-Operational: 30G, 11ms duration
Vibration
Operational: 0.2G, 5 to 500Hz (sine wave) ; 0.41G, 3-10-200-500Hz (Random) , Non-Operational: 1G, 5 to 500Hz (sine wave) ; 2.256G, 5-80-350-500Hz (Random)
Safety
EMC Class-A: CE, FCC, VCCI, BSMI, RCM
Safety: IEEE CB, cTUVus
Environmental: RoHS2, GreenPC, WEEE
Warranty
3-year full system limited warranty including PROMISE PSP, optional extended warranty
Support
24/7 e-mail and phone support, 24/7 access to PROMISE site-drives, firmware, and compatibility list
1SATA drives require a SAS-SATA adapter,
2Thick Clones supported in SR1.1 or newer,
3Certain regions
Views: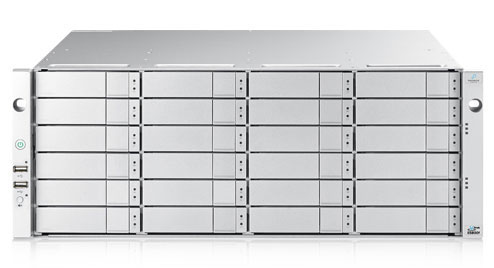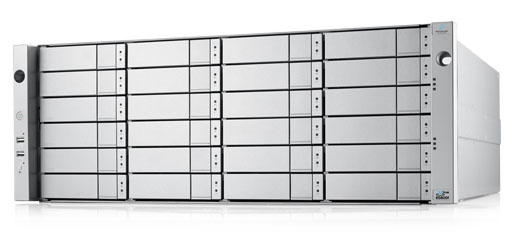 Videos:
Pricing Notes:
Pricing and product availability subject to change without notice.
VTrak D5800 Series RAID Dual Controllers
VTrak D5800 Series Fibre Channel RAID Dual Controllers
VTrak D5800 Series Diskless Enclosure for Customization Only