PROMISE VTrak E5300f

High-Availability Storage System for Big Data

Promise Products
VTrak E5300 Series SINGLE 16G FC RAID Series
2U/12-Bay 16G FC Single Controller RAID subsystem with 12x 4TB HDD
#E5300FSQS4
Get a Quote!
2U/12-Bay 16G FC Single Controller RAID subsystem with 12x 6TB HDD
#E5300FSQS6
Get a Quote!
2U/12-Bay 16G FC Single Controller RAID subsystem with 12x 8TB HDD
#E5300FSQS8
Get a Quote!
VTrak E5300 Series DUAL 16G FC RAID Series
2U/12-Bay 16G FC Dual Controller RAID subsystem with 12x 4TB HDD
#E5300FDQS4
Get a Quote!
2U/12-Bay 16G FC Dual Controller RAID subsystem with 12x 6TB HDD
#E5300FDQS6
Get a Quote!
2U/12-Bay 16G FC Dual Controller RAID subsystem with 12x 8TB HDD
#E5300FDQS8
Get a Quote!
2U/12-Bay 16G FC Dual Controller RAID subsystem with 12x 10TB HDD
#E5300FDQS10
Get a Quote!
Click here to jump to more pricing!
Overview:
High Performance, High Availability
The VTrak E5000 Series delivers an affordable high-performance Fibre Channel to SAS storage solution with advanced enterprise level reliability and functionality. With four 16Gb Fibre Channel ports and two 12Gb SAS ports per controller connecting host and storage expansion, the E5000 is perfect for applications requiring huge bandwidth. The E5000 can output 542,100 read IOPs and up to 111,686 write IOPs. It can deliver 12 Gigabyte read and 5.3 Gigabyte write sequential throughput. Fully redundant components such as Active-Active controllers, power supplies, and cooling units provide optimal data availability even during unforeseen circumstances. The VTrak E5000 is truly a full featured enterprise level storage system that can accommodate any size of business environment.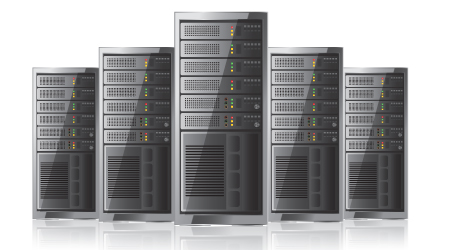 Data Center Ready
Fully compatible with 6 Gb/s SAS/SATA devices, the VTrak E5000 gives users the ability to deploy 6 Gb/s and 12 Gb/s SAS/SATA HDDS and SSDs. Efficient power supplies provide up to 90% improved power efficiency, improving TCO by conserving power, reducing heat output and lower cooling costs. The E5000's flash arrays enable optimized speed for key enterprise applications that need high-speed transfer rates and reduced latency and thanks to its Intel multi-core Broadwell-DE based architecture providing ample processing power to achieve transfer speeds at line rate on both 16Gb Fibre Channel front-end interfaces and 12Gb SAS backend interfaces.
Cloud Ready
As consumers and businesses become more mobile, the need for data access, retrieval, and distribution anywhere at any time means that data must be protected at all times. The E5000 Series provides the versatility and scale to meet the demands of data centers, hyper scale computing, and high-performance computing that requires flexibility and cost effective tiered storage management.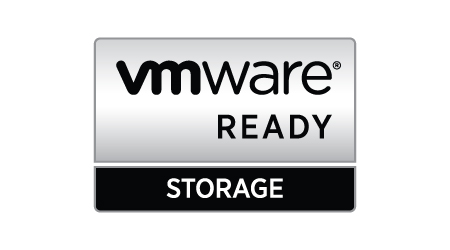 VMware Ready
Ready to confront any challenge in today's virtualized IT environment, the VTrak E5000 is certified with VMware vSphere, Citrix XenServer, and Microsoft Hyper-V. Additionally, the VTrak E5000 Series supports VMWare VAAI, which reduces resource overhead on VMWare vSphere ESXi hosts. This significantly improves performance for storage-intensive operations like storage cloning, zeroing, and more.
Features:
VTrak E5000 Series 16 Gb/s Fibre Channel to SAS subsystems deliver a high performance SAS solution with advanced enterprise level reliability and functionality
12 hot-swappable 3.5" (LFF) drive bays in a 2U chassis
Supports SAS and SATA drives simultaneously and is compatible with leading SAS & SATA drives, HBAs, and RAID controllers
Dual active/active controllers with ALUA for performance and access flexibility
Quad 16Gb FC ports and dual 12Gb SAS ports per controller for connecting host and storage expansion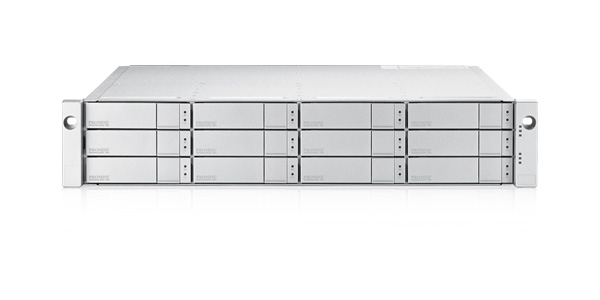 Specifications:
VTrak E5300f Specifications
Form Factor
2U/12 Bay
Drive Support
Up to 12 x 3.5" drives

6/12 Gb SAS, 6 Gb SATA HDD and SSD
Supports any mix of SAS and SATA drives simultaneously in the same enclosure

External I/O Ports (per controller)
Each SBB2.0 RAID Controller has four 16 Gb FC SFP ports for Host interface and two 12 Gb SAS standard Mini SAS HD ports (SFF-8644) for Storage Expansion, RJ45 1Gb Ethernet and RS232 for Management ports
RAID Levels
0, 1 , 5, 6, 10, 50, 60
RAID Stripe Size Support
64K, 128K, 256K, 512K and 1MB
Hot spares
Global or dedicated with revertible option
Max LUNs per subsystem
1024
Max LUNs per array
32
Advanced Storage Features

Advanced Cache Mirroring over PCIe Gen3
Simple, drag-and-drop LUN Masking and Mapping
Asymmetric LUN Unit Access (ALUA)
Volume Copy
PerfectFlash - Non-Disruptive Software Update
I/O performance & power monitoring tools
USB Service Log
LDAP Support for central user management

Background Activities

Media Patrol
Background Synchronization
Foreground Initialization
Rebuild
Redundancy Check
Disk SMART Polling
Online Capacity Expansion (OCE)
RAID Level Migration (RLM)
UPS Monitoring
Feature rich task scheduler for background activities

PerfectRAID Features

Predictive Data Migration (PDM)
Intelligent Bad Sector Remapping
SMART Error Handling
NVRAM Error Logging
Disk Slot Power Control
Read/Write Check Table
Write Hole Table

GreenRAID Features

Four levels of advanced power management disk drive (MAID) support
Efficient 80Plus Certified power supplies

Management Interfaces

Web Based management using WebPAM PROe (Ethernet)
Command Line Interface (CLI) or Command Line Utility (Serial Port or Ethernet via Telnet, SSH)
Third Party Management Support via SNMP, CIM

Supported Operating Systems
Windows Server 2008, 2012, HyperV, OS X 10.x, RHEL 6.5, 6.6, SLES 11, VMWare ESX v6.x
Voltage
100--240 Vac Auto--Ranging
Current (Maximum)
9A @ 100 Vac; 4A @ 240 Vac
Power Conversion Efficiency
>80% @ 110V (>20% load), >80% @ 240V (>20% load) Temperature Range
Temperature
Operational: 5° to 40°C, Non-Operational: -40° to 60°C
Humidity
Operational: 10% to 90% (Non-Condensing), Non--Operational: 5% to 95% (Non-Condensing)
Acoustic Noise Levels
55 dB (Typical), 65 dB (Maximum)
Shock
Operational: 5G, 11 ms duration, Non-Operational: 10G, 11ms duration
Vibration
Operational: 0.3G, 5 to 500 Hz, Non-Operational: 1G, 5 to 500 Hz
Safety and Emission Certification
EMC Class A: CE, FCC, VCCI, BSMI, RCM and KC
Safety: IEEE CB, UL/cUL and TUV
Environmental Standards
RoHS, GreenPC, WEEE
Power Supply
Efficient 80PLUS GOLD Certified redundant PSU
Dimensions
(H x W x D) 88 x 446.7 x 507 mm (3.5" x 17.6" x 19.96")
Weight
14.8 Kg (32.6 lbs) w/o drives, 24.8 Kg (54.7 lbs) w/ drives
Warranty
3-year full system limited warranty, optional extended warranty, onsite parts replacement program
Support
24/7 e-mail and phone support, 24/7 access to PROMISE site-drives, firmware, and compatibility list
Views: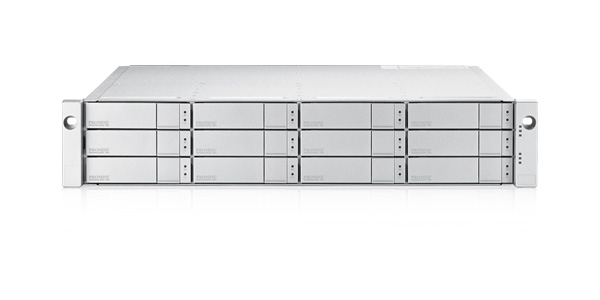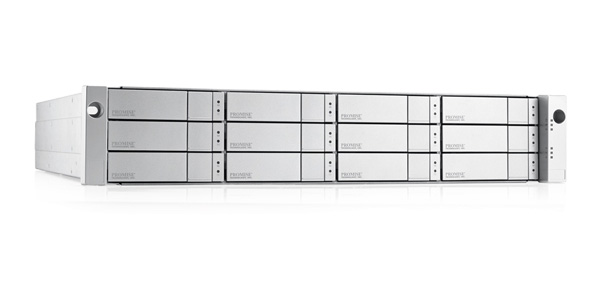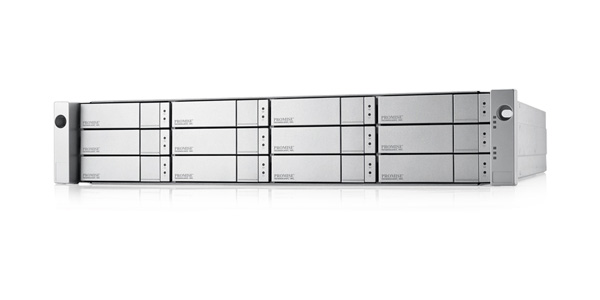 Videos:
Pricing Notes:
Pricing and product availability subject to change without notice.